Ingersoll once said, "Anger blows out the lamp of the mind." How true it is.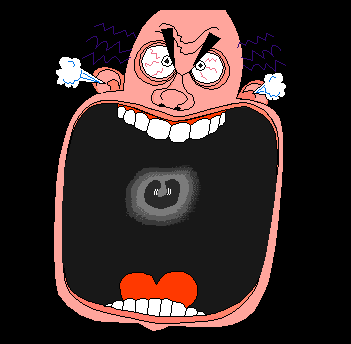 Our anger results from a perceived threat to our ego. When we have angry thoughts, we are usually unable to think clearly and thus react mindfully or in a non-harmful manner. More often than not, we will say or do something that worsens the situation. Even if we are not the provocateur but the provoked party, we should be mindful and not let our anger escalate into a situation that gets out of hand which may end badly for everyone involved.
From the media, we had come across cases committed in the heat of anger and passion, such as the father who chopped off his child's fingers in a fit of anger as his child had scratched the side of his new car and the incensed man who murdered his ex-lover after being dumped. All these crimes had occurred due to the perpetrators' inability to manage and reduce their anger.
The words we speak out of anger are often injurious and creates more negative thoughts in the other person. We think we may have won the scuffle with our harsh speech but we will do well to remember what Buddha said: "The fool thinks one has won a battle when one bullies with harsh speech, but knowing how to be forbearing alone makes one victorious."
Anger is one of the three roots of evil that causes us to suffer endlessly; the other two being craving and delusion. How do we train ourselves to control, diminish and eradicate our anger?
But cultivating a mind of loving kindness and friendliness towards all. We start by first sending love to ourselves, followed by our loved ones, then to casual acquaintances. The next part will be more trying as we'll need to send love to those we dislike or hate, and finally to the whole world.
Naturally, it's easier said than done. We will encounter roadblocks right from the start and from time to time in our practice. As the saying goes, practice makes perfect. We can start by sending loving-kindness with an open heart for half an hour every day before bedtime. Creating a mind full of love is the only antidote to eliminating our anger and avoid harm to ourselves and others.
We can take heart that there can be redemption for all. Angulimala, the serial killer, who murdered almost a thousand people due to wrath and a misguided notion, was taught by the Buddha to cultivate love and compassion for all. After suffering much ridicule and hardship due to his past reputation, he renounced his ways, attained arahantship and even became a protector of pregnant women!
Of course, he had previously accumulated a huge store of meritorious karma to encounter the Buddha himself and receive his teachings. Therefore let us practise loving kindness every day to accumulate good karma for the eventual eradication of anger and suffering.
"Whatever grounds there are for making merit productive of a future birth, all these do not equal one-sixteenth part of the liberation of mind by loving kindness. The liberation of mind by loving-kindness surpasses the light of the morning star and shines forth, bright and brilliant."